These vegan cinnamon apple muffins are soft, fluffy, sprinkled with oat crumb on top, and full of delicious cinnamon aroma. The combination of apple and Ceylon cinnamon creates a unique taste. Ideal as a snack or breakfast. Naturally without milk and eggs.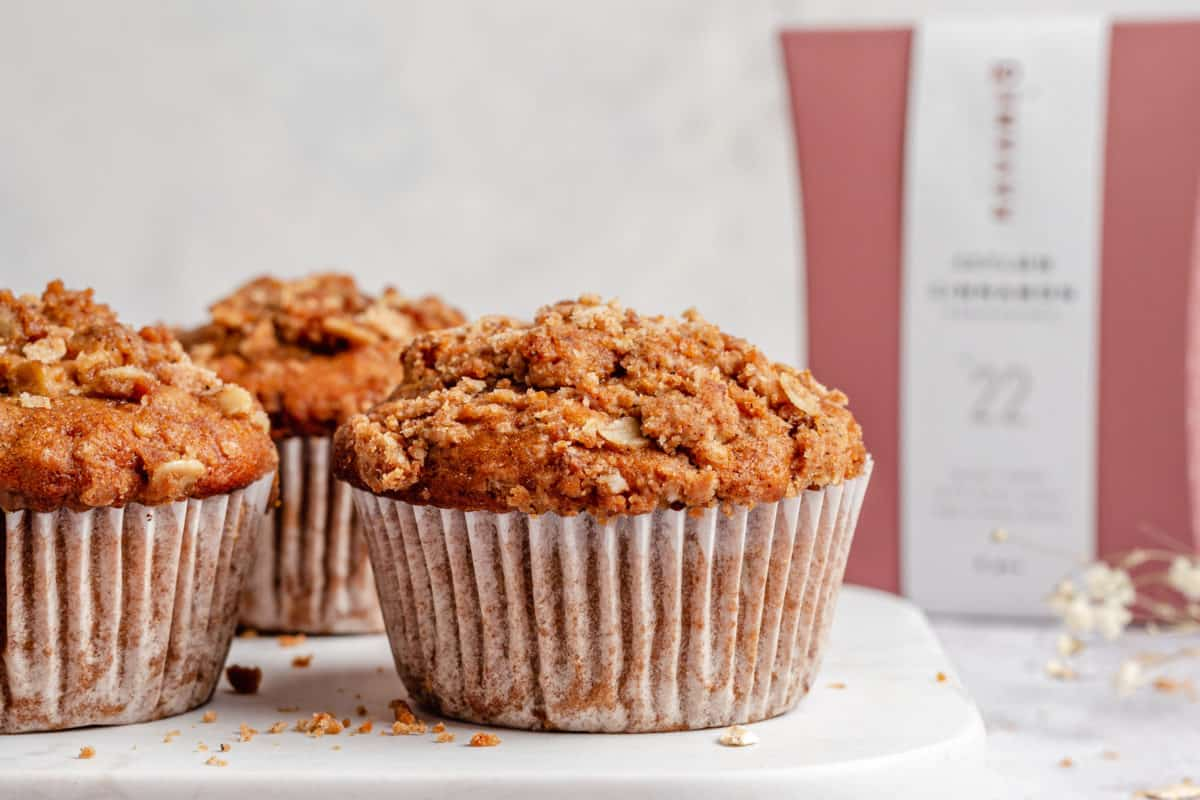 Ingredients:
Muffins:
250 ml (1 cup) oat milk, room temperature (or any other plant-based milk)
1 tbsp of apple cider vinegar (or lemon juice)
300 g of plain flour
3 tsp baking powder
1 tsp baking soda
1 tsp freshly ground Ravaneō N°22 Ceylon Cinnamon
135 g natural cane sugar (or coconut sugar)
55 g (1/4 cup) sunflower oil, room temperature
50 g (3 tbsp) apple puree
1 cup apples, peeled and cut into small cubes
35 g (1/4 cup) oat flakes
Crumb:
4 tbsp (35 g) plain flour
3 tbsp (25 g) natural cane sugar (or coconut sugar)
2 tbsp (12 g) oat flakes
1/2 tsp freshly ground Ravaneō N°22 Ceylon Cinnamon
2 tsp (27 g) of coconut oil
Method:
Preheat the oven to 200 °C. Line the muffin tray with 12 cups and set aside.
Add a tablespoon of apple cider vinegar to oat milk. Mix and set aside.
For the crumb, mix plain flour, cane sugar, oat flakes and ground cinnamon. Add coconut oil and mix well to create the crumb. Set aside.
Into a medium bowl, pour plain flour, baking powder, baking soda, ground

cinnamon

and a pinch of salt and mix together.
In a large bowl, using a whisk, mix cane sugar, sunflower oil and apple puree. Then add the oat milk with apple cider vinegar.
Sift the dry ingredients into the wet mixture and mix until the mixture is compact. Do not overmix the dough. Finally, stir in sliced ​​apples and oat flakes.
Divide the dough evenly into 12 muffin cups and sprinkle the top of them with the crumb.
Bake in the preheated oven at 200 °C for 5 minutes, then lower the oven to 180 °C and bake for another 15-20 minutes. Muffins are ready if the toothpick that you insert into their center stays clean after being pulled out. If it is wet, let the muffins bake for another 5 minutes.
Let the muffins cool in the tray for about 10 minutes, then place them on a cooling rack and let them cool completely.
Store the muffins in an airtight container lined with a paper towel. At room temperature, they will last up to 3 days and up to a week in the refrigerator. You can also freeze them for up to 3 months.
This recipe was created in cooperation with Petra @plantifulbakery.