Try the proven combination of nutrient-rich beets, white Kampot pepper and flower of salt in this recipe for healthy hummus, which has a magical colour. Beets and white Kampot pepper complement each other flawlessly thanks to their typical earthy flavours.
The author of the recipe is Annamaria (@annamaria_bilasova), a lifestyle blogger and author of the simplicité blog, who has discovered the magic of minimalist flavouring and prepared this tasty recipe with our spices for you.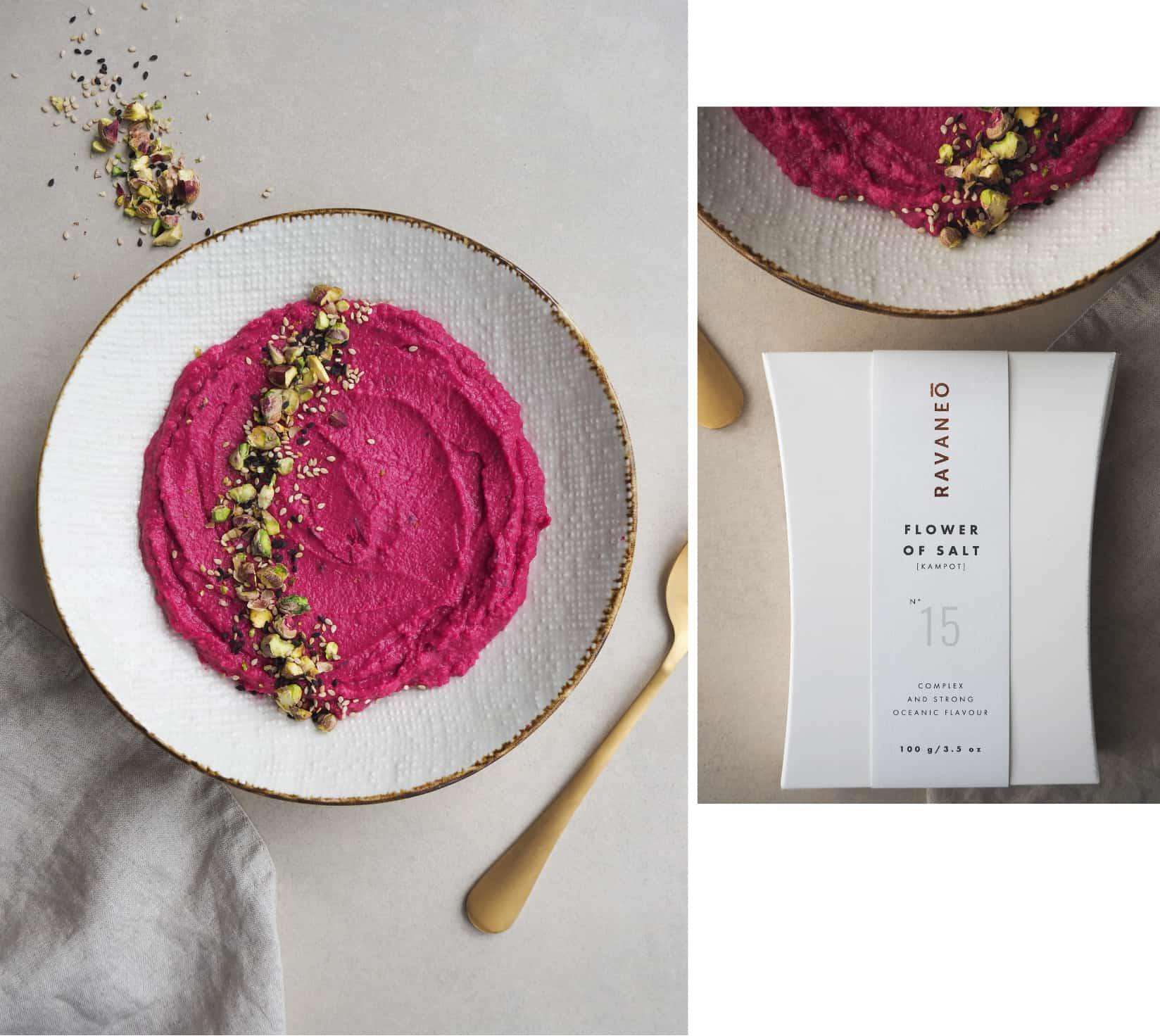 Ingredients:
1 can of white beans (instead of beans you may try chickpeas)
1 medium-sized boiled beets (precooked beets from the store can be used)
1 tbsp. tahini
1 tbsp. flaxseed oil (can be replaced by olive or sesame oil)
1 tbsp. yogurt (we recommend coconut, soy or Greek yogurt, or it can be omitted completely)
juice of 1/2 lemon
1/3 tsp. of ground chilli
1/2 tsp. Ravaneō N°15 Flower of Salt
1/3 tsp. Ravaneō N°03 White Kampot Pepper
water from boiling the beets
for serving:
Method:
Cut the cooked beets into cubes and put them in a blender and add the rest of the ingredients. Mix the mixture until smooth. If the mixture is too thick, add a little water from the boiled beets to dilute it.
Tips from Annamaria on how to serve beet white bean hummus:
we can just spread it on fresh pastries, crackers or use it in the preparation of avocado toast,
bite fresh crispy vegetables (e.g. carrots or cucumbers) with it,
it is also suitable for salads as a dressing or as a creamy "sauce" for pasta,
use it in the preparation of cocoa-beet brownies,
fill a tortilla with it and complement with ingredients you like (e.g. fried tofu, vegetables, avocado, possibly meat – steak, pieces of roasted chicken or turkey)
Besides great recipes, you can also find beauty and fashion tips on the inspiring simplicité blog – it is definitely worth a visit! Thanks Anamaria for the recipe and you, our readers, for cooking with us.