This time we've prepared a recipe for tasty and juicy shrimp, which may be served as an appetizer or as a light lunch or dinner. You will be surprised how easy and fast preparing seafood can be!
When choosing shrimp, focus on its quality and freshness. If you do not buy it in specialized fish shops but in a supermarket, you should reach for the frozen packed one. Usually, most shrimp is frozen immediately soon after being caught, which preserves its freshness, meaning the packaged one is often "safer" than that offered at the supermarket fish counter.
Shrimp is mild in taste, so we invite you to play with seasoning. We recommend using the flower of salt, white pepper (but also red pepper will taste great) and a generous portion of fresh herbs. Ground paprika or chili will also work well.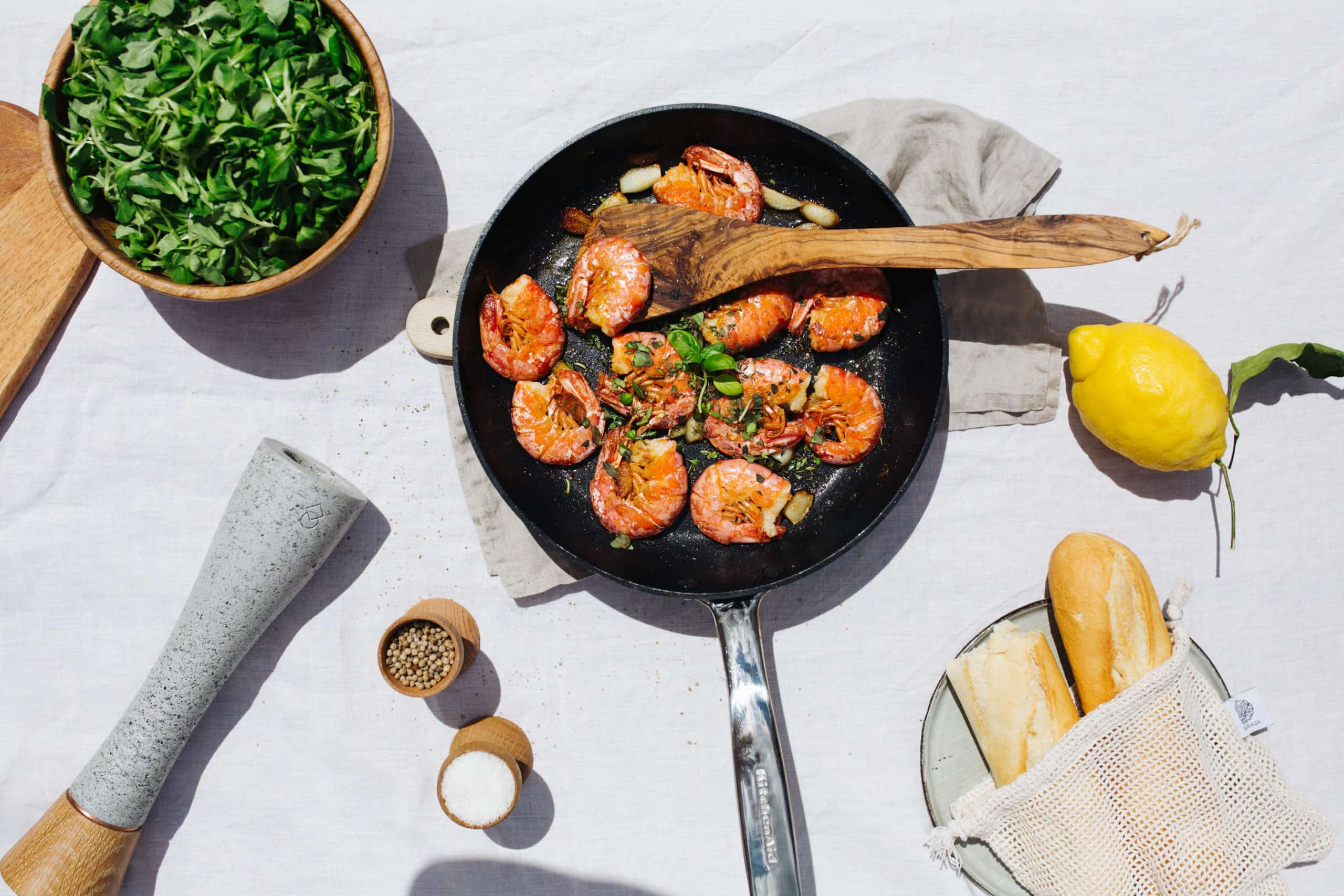 Ingredients (4 helpings):
400 g fresh/defrosted shrimp (you can use peeled and deveined shrimp or unpeeled one – the unpeeled shrimp will be juicier)
2 tbsp. olive oil
8 cloves garlic (peeled)
1 handful fresh herbs (basil, oregano, parsley)
juice of 1 lemon
Freshly ground Ravaneō N°03 White Kampot Pepper
for serving:
lettuce (we've chosen lamb's lettuce)
baguette
Directions:
Heat 2 tablespoons of olive oil in a large pan over medium heat, add peeled and sliced garlic, and stir for about 1 minute.
Add shrimp to the hot pan and cook for about 2-3 minutes on each side (until shrimp is pink and cooked through).
Remove the shrimp from the heat, add the lemon juice, chopped herbs, and season with the flower of salt and white pepper.
Serve the shrimp with lettuce and toasted baguette or pasta.
If you used unpeeled shrimp, don't forget to peel it before eating.